About Temple B'nai Chaim
Temple B'nai Chaim is a modern Reform congregation inspired by over 3000 years of tradition.  We believe in a living Judaism compatible with contemporary science, historical understanding, and ethical sensibilities, and which reflects everyday reality and is refined by it.  We are a member congregation of the Union for Reform Judaism.
TBC is open for in-person services in our beautiful sanctuary.  All are welcome! See our events calendar for dates and times.
      NEW  Navigating the War in Israel – TBC Religious School Resource Guide
Check out our News and Chailites page  for additional information on upcoming services and events.
---
In the Spotlight!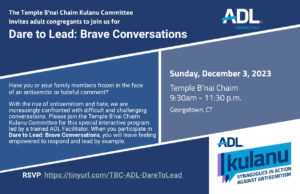 This ADL program is an interactive workshop for TBC members (only) to learn how to become empowered to have difficult conversations and interrupt antisemitism when it happens.


Note: This is a workshop for adults; it is not focused on teaching parents & grandparents how to talk to children about antisemitism. Guidance for talking to children is upcoming through the TBC Religious school.


A TBC member has contributed the funding for this workshop, and ALL members are encouraged to attend. Nosh will be available!


Registration required: https://tinyurl.com/TBC-ADL-DareToLead