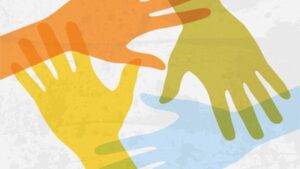 TBC Social Acton Agenda for 2022/2023
"Year of Healing and Repair – A Time for Action"
TBC has consistently embraced our Jewish responsibility to repair the world (Tikkun Olam) with a robust and successful social action program. However, in view of the enormous challenges we face in the world today, we can and must do more … for ourselves, for our neighbors and for our children. Which is why we have designated 5783 as "A Year of Healing and Repair – A Time for Action."  This year, TBC members have voted to focus on three areas of critical importance. They are:
For more information, contact us at: socialaction@templebnaichaim.org.
*     *     *
Social Action is something in which everyone can participate. The only requirement is a desire to make the world a better place. From the smallest job to the most complex, each act of kindness and caring makes a huge impact on achieving social justice.
The Social Action Committee of TBC provides the focus and mechanism for congregants to get involved in a multitude of projects with varied objectives and served populations.  Without regard to religion, the Social Action Committee provides assistance to local, national and international projects.

For further details or to participate, see below … or contact Peggy Zamore or

Jane Alexander

at: socialaction@templebnaichaim.org.  Contributions to help with TBC social action initiatives can be made using the TBC donation form, indicating Tzedakah (Social Action) under "Select a Fund."

---

Ongoing TBC Social Action Projects and Activities
Temple B'nai Chaim has numerous on-going activities and is always open to new suggestions. We are a "hands on" committee that both initiates and joins in on projects affecting both the Jewish and non-Jewish segments of our community.
| | |
| --- | --- |
| | CF Bridge of Hope. The CF Bridge of Hope brings young patients with cystic fibrosis, along with one parent, to Connecticut for treatment. TBC members, working with Wi-ACT, can support food, housing and transportation assistance to young CF patients from overseas who come to the U.S. for short-duration, life-saving clinical treatment. To find out more,  send mail to socialaction@templebnaichaim.org. |
| | The Daily Bread Food Pantry. TBC members volunteer at the Daily Bread Food Pantry, an ecumenical food provider for the Greater Danbury community. Its mission is to help those in need of food, whatever their circumstances, and maintain the dignity of clients in a compassionate and caring atmosphere.  Daily Bread offers three bags of groceries two or three times per month. Daily Bread is located in the rear building at St. James' Episcopal Church at 25 West Street, Danbury, Connecticut.  To volunteer send mail to socialaction@templebnaichaim.org. |
| | |
| | Dorothy Day Hospitality House / Danbury Soup Kitchen.  On the first Wednesday of each month, TBC volunteers help out for an afternoon at the Dorothy Day Hospitality House (aka Danbury Soup Kitchen). Up to 80 hot meals and lunches are served 'grab and go' to all who come to the door, with no questions asked. We also provide 60 meals, lunches and snacks for the Pacific House, the Danbury Homeless Shelter. The Dorothy Day Hospitality House is based on the "Houses of Hospitality" movement founded by Dorothy Day during the Great Depression and is not formally affiliated with any religious organization. To volunteer, send mail to socialaction@templebnaichaim.org. See more photos! |
| | Laundry Love of Greater Danbury helps people who are struggling with financially clean their clothes and linens on a regular basis by providing prepaid laundry cards for the White Street Wash laundromat in Danbury.  The effort is a collaboration involving TBC and other faith and community-minded organizations from Danbury and surrounding towns. Volunteers sign up for 1 hour shifts to provide laundry cards to guests at the laundromat. Sign up online to help:  https://signup.com/go/zdyxnef |
| | Passover Basket Project. TBC has in the past participated in the Jewish Family Services project each year to ensure that everyone in the greater Danbury Jewish Community is able to celebrate the Passover holiday nutritiously, ritually and with pride of heritage. We support this effort by providing Kosher for Passover food and Stop & Shop gift cards, so the families can make purchases on their own. If you are interested in keeping this tradition going, contact socialaction@templebnaichaim.org. |
| | |
| | Rise Against Hunger.  TBC members participate in the annual Rise Against Hunger (formerly Stop Hunger Now) meal packaging event sponsored by the Wilton Interfaith Action Committee (Wi-ACT). Usually taking place on a Saturday in October, TBC members of all ages have helped pack tens of thousands of meals to distribute to impoverished people in Nicaragua, South Sudan, Senegal, the Philippines, and others. |
| | Thanksgiving Baskets.  Each year TBC provides three Thanksgiving meals for needy families in Wilton through Wilton Social Services. We purchase Stop & Shop gift cards and create special gift bags with seasonal baked goodies.  To help out, contact socialaction@templebnaichaim.org. |
Funding
Support for all of our projects comes directly from our membership through the Tzedakah Fund; and from the General TBC budget.  You can donate to Social Action projects in various ways:
A general donation to the fund in celebration of events such as Bar/Bat Mitzvah, Weddings, Anniversaries, Birthdays, Births, or in memory of someone.

Directed donation to one of our projects (e.g., Stop Hunger Now, Diaper Project, Dorothy Day, etc.).
Please consider contributing today using the TBC Donation Form and selecting "Tzedakah (Social Action) Fund." Thank you for your support.