Join Us at Raise Craze Mitzvah Day 5783
Sunday, January 22
11:00 am- 2:00 pm
Help TBC Religious School spread kindness throughout our local, national & global communities! There will be tons of service opportunities and activities for participants of all ages to do. All are welcome to join us in fulfilling the mitzvah of Tikkun Olam – Repairing the World!
EVENTS WILL INCLUDE
Social Hall – Mitzvah Fair & Mitzvah Opportunities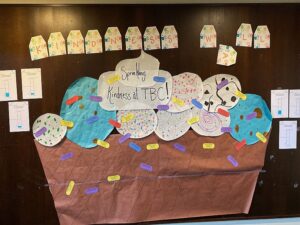 Rayna Avizov & 7th Grade Students

Curators of Mitzvah Fair Display
Religious School students have an opportunity to create posters about a special organization or mitzvah project of their choosing to display during the Mitzvah Fair!

Rica Mendes

Letters to Lone Marines
Donation Haircuts
Fundraising jar for Wigs & Wishes
Collecting pampering/spa products to make care packages for cancer patients?
Lobby – Mitzvah Opportunities
Nora Baskin

Cards for Schneider Family Hospital in Israel

Ariella Mendes

Affirmation Jars – Call out to the community to collect glass jars!
Toy Drive for an organization she works with that always needs toys!

Kippah sale for continued fundraising for Uganda
RS Sanctuary Space – Mitzvah Opportunities
Barbara & Joe Bear

Pollinator Pathways Garden Planning

Kindness Stone Project

100 flat stones & acrylic paint & brushes
Lobby – Mitzvah Opportunities
SNACK TABLE
Lunch Making Station for Dorothy Day Hospitality House
AND MORE!
Temple B'nai Chaim
82 Portland Avenue
Wilton, CT 06897
(203) 544-8695