Dear Temple B'nai Chaim Community,


I and the entire leadership of Temple B'nai Chaim are very excited about restoring one of our sacred Torahs and formally invite our entire congregation to participate in the restoration. What that means is you will help repair and restore the scroll by redrawing the faded or broken Hebrew letters with your own hand. This is a once-in-a-lifetime opportunity to make our indelible mark in this Torah.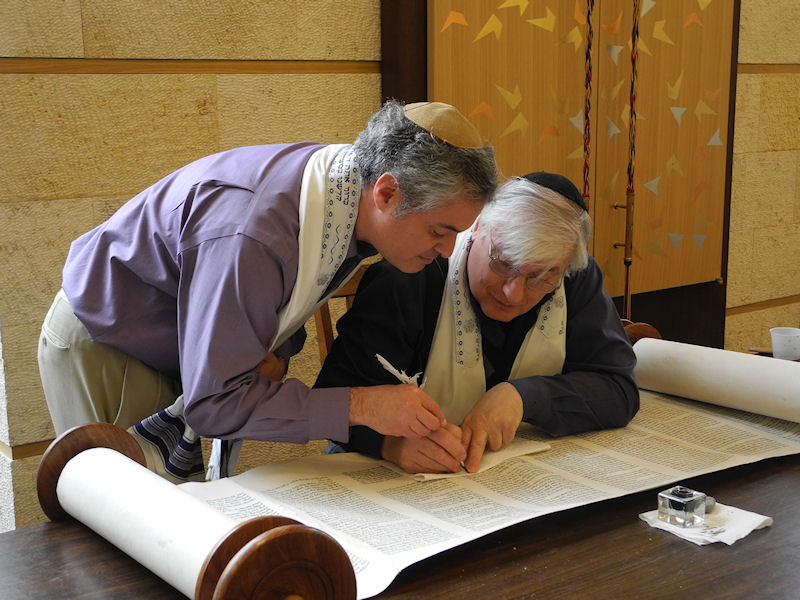 We will watch with pride and joy as every future Bar/Bat Mitzvah reads from the Torah scroll that we as a family helped restore. We will be guided through the experience by Neil Yerman, a nationally recognized scribe. Learn more about Neil below in the "About the Scribe" section below
We truly want everyone to participate. Simply register for a timeslot by clicking here and then show up with clean hands and an open spirit. It promises to be an experience that you and your family will cherish forever. All are welcome and we are happy to accommodate any family member with special needs. If needed, please contact me directly.

Please register early and be as flexible as possible in selecting time slots. When registering, please select 4 or more time slots. We will do our best to accommodate your 1st or 2nd choice. Our volunteers will follow up with you and confirm your time slot. Torah Restoration sessions will be held on March 23 and April 8, with April 9 and 10 being alternative dates if needed.

Thanks to the generosity of several members of our congregation, the restoration project is largely funded and I am most pleased and grateful to be able to tell you that there is no donation required. That said one way the Israelites participated in the building of their sanctuary was to donate not only their labor, but their means. Following in this model, if you wish to contribute to the restoration project we welcome it and have set suggested contribution amounts of $72.00 per family or $36.00 per person. Our key goal here is full participation from the congregation so please sign up and enjoy this amazing experience. There is no pressure to contribute.

The last of the 613 traditional commandments is to write a Torah – a commandment we each have an opportunity to fulfill individually and together as a community. I look forward to engaging together in the sacred work of restoring our Torah scrolls for ourselves and future generations.
Sincerely,

Cantor Jon Sobel

---
Neil Yerman, an artist and calligrapher, is widely admired for inspiring an appreciation of the beauty of the physical Torah as well as for the wisdom and guidance that it contains. With his warm and engaging manner, Sofer Yerman excites and educates all who gather around him — from the youngest to the oldest. Neil helped us restore one of our Torah's several years ago. We look forward to having him back at TBC and to seeing his beautiful work as he restores another Torah. For more information about Neil Yerman, check out his website.