About Temple B'nai Chaim Sisterhood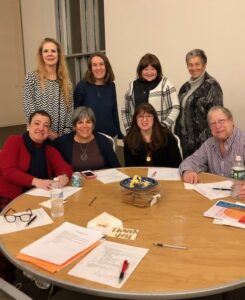 The Temple B'nai Chaim Sisterhood is a warm, vibrant, and welcoming group dedicated to the fellowship, spirituality, social connection and sustainable financial stewardship of our membership and of Temple B'nai Cham (TBC).
We love Judaism, one another, and our wider community. We are inclusive to all interested TBC members, as well as members of the larger community interested in women and Judaism, to join our circle.
Sisterhood offers many diverse opportunities for connection and learning:

Opening Dinner – a time to socialize and kick off the year

Full synagogue break fast following Yom Kippur

In-home pot luck Havdalah dinners open to all congregants

Tu b'Shevat women's seder

Sisterhood Hannukah Party

Ogden House luncheons for local seniors

NEW! Women's Spirituality Retreat – a weekend dedicated to spirituality and fellowship

NEW! Mussar discussion group  
Sisterhood contributes in many ways to TBC and our greater community.  Our contributions include:
Organize Rosh Hoshanah honey sale fundraiser (to support Sisterhood budget)

Organize Purim Mishloach Manot basket fundraiser (to support Religious School budget)

Present ritual gifts to all B'nai mitzvah students

Provide apples & honey, latkes, and other support to religious school throughout the year

Contribute to TBC wish lists / special needs as occasion arises

Directly support TBC's operating budget
Click here to become a member, or contact sisterhood@templebnaichaim.org.

FROM WOMEN IN REFORM JUDAISM
Sisterhood is affiliated with the Women of Reform Judiaism network, which works to:
Provide scholarships for rabbinic and cantorial students

Educate about women's health issues

Support youth activities through the YES fund

Work to end domestic violence

Support the Jewish Braille Institute

Support the World Union of Progressive Judaism